Discretion, reactivity and flexibility,
These are crucial to conduct safe and successful tactical operations. Our tethered systems are specifically fitted to be carried easily, deployed quickly with no piloting skills, and to fly for several consecutive hours. They allow defense units to take quick decisions with a detailed knowledge of their environment thanks to the real-time images provided instantly and fully secured through the tether.
Elistair systems are fully automated,

allowing the operators to focus
on their surveillance mission
and take quick decisions
J.D CEO gdhjk
Applications
Efficient, persistent, and compact,
Our tethered drone solutions are critical asset for security operations. The continuous and global aerial view enables long, risk-free and efficient surveillance for both night and day use. Tethered UAVs can be deployed for long-term operations in order to cover a large area for several hours. Compact, lightweight and quick to deploy for a single operator, they make little noise from a high position, ensuring discreet surveillance.
Using tethered drones as virtual 'Surveillance Towers'
is a simple and efficient solution for semi-persistent
applications, with a serious cost advantage
over helicopters or manned aircraft.

J.D CEO gdhjk
Applications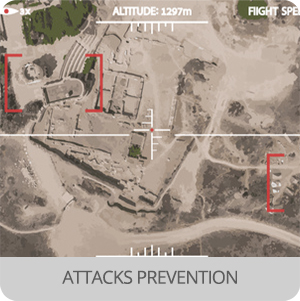 Powerful, highly flexible, and safe,
Tethered UAVs are powerful tools for telecommunications, acting as airborne antennas. They enable the creation of temporary, wide-range networks: cellular, wifi, high-frequency radio and 3G/4G signals. Thanks to their high-speed data transfer, our tethered systems are particularly suited for pop-up telecommunications.
Using tethered drones as virtual 'Surveillance Towers'
is a brilliant idea that no one had attempted.
It will find
applications in tactical communication, such as
low altitude airborne communication node,
small cell base station, etc.
M.A Lead telecom. engineer Singapore Technologies Engineering
Applications