Military Drone
Surveillance
Gain situational awareness of your area by deploying a military surveillance drone at heights of up to 100 meters and capture actionable intelligence over 50 hours periods to ensure a greater safety of your team.
Use tethered military surveillance drones to conduct persistent observation missions and obtain a wide-area view of the area of operations and provide force protection. Rapidly deployable in vulnerable or difficult-to-access environments, our tethered solutions equipped with EO and IR sensors provide uninterrupted, 360°, day and night surveillance out to a distance of 10 kms (6-miles). These field proven military drone solutions give operators the actionable intelligence they need to make critical decisions in high stress environments.

Persistent Surveillance
Powered and controlled through the tether, Elistair tethered drone solutions can provide you with an extended endurance of up to 50 hours, ensuring continuous surveillance capabilities.

Actionable Intelligence
Combine a military tethered drone with an Artifical Intelligence software to help identify the location of threats and to instantly communicate actionable intelligence.

Day / Night Coverage
Conduct continuous overwatch missions using our surveillance drone solutions with a dual EO/IR sensor. A powerful day and night vision drone removes the need to land and change payloads.
Recommended Military Drone Solutions
Orion 2 includes multiple automated redundancies and emergency procedures allowing the operator to focus on his mission.

  IP54         

  50h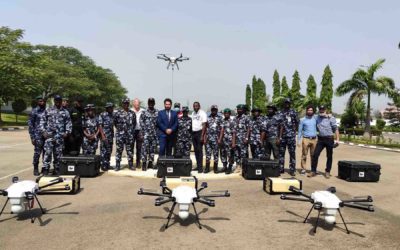 Version française en bas de pageLyon, France / Abidjan, Ivory Coast, November 28, 2022 - Elistair announces that it has equipped the Nigerian...
read more
Sales Enquiries – enquiries@elistair.com
Customer Support – support@elistair.com
PR and Marketing – media@elistair.com
Elistair, Europe
12 Chemin des Hirondelles
69570 Dardilly, France
+33 9 83 57 06 39
Elistair Inc, USA
331 Page Street, Suite 1,
Stoughton, MA. 02072
Customer service desk: +1 (910) 945 9230
Elistair, Africa
CCIFCI 18 BP189 Abidjan 18,
Boulevard de Marseille – Biétry
Ivory Coast
+225 07 69 43 31 78