Learn more about our tethered drone systems and their use cases by watching for our live demonstration or webinars.
Register for any and all, below.
Watch the full recording of the webinar you want
by filling in the corresponding form
How Tethered Drones Contribute to Securing Large Events – Feedback from the Police of Montana University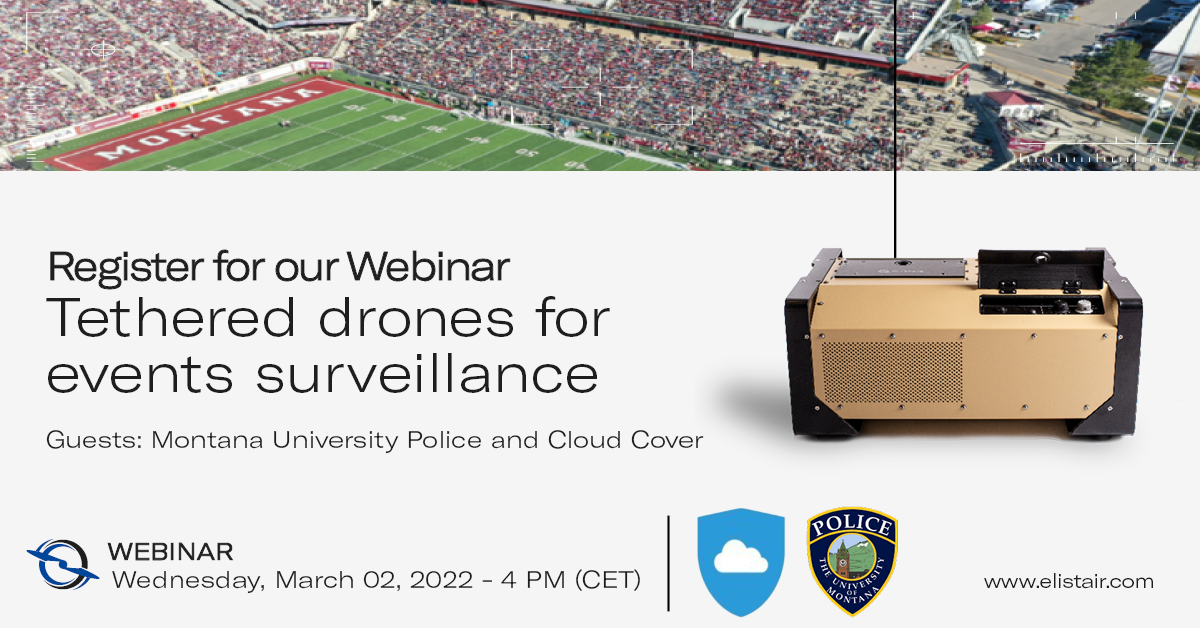 Montana University Chief of Police, Brad Giffin, and Cloud Cover Mission Commanders, Richard Simpson and Brian Zacherl share their feedback on the use of tethered drones to help secure large events. They deployed tethered and untethered drones on major events hosted at the Washington Grizzly stadium, with more than 25 000 seats capacity.
Operaciones de seguridad pública con drones cautivos – Testimonios de la Policía de Madrid y DJI Madrid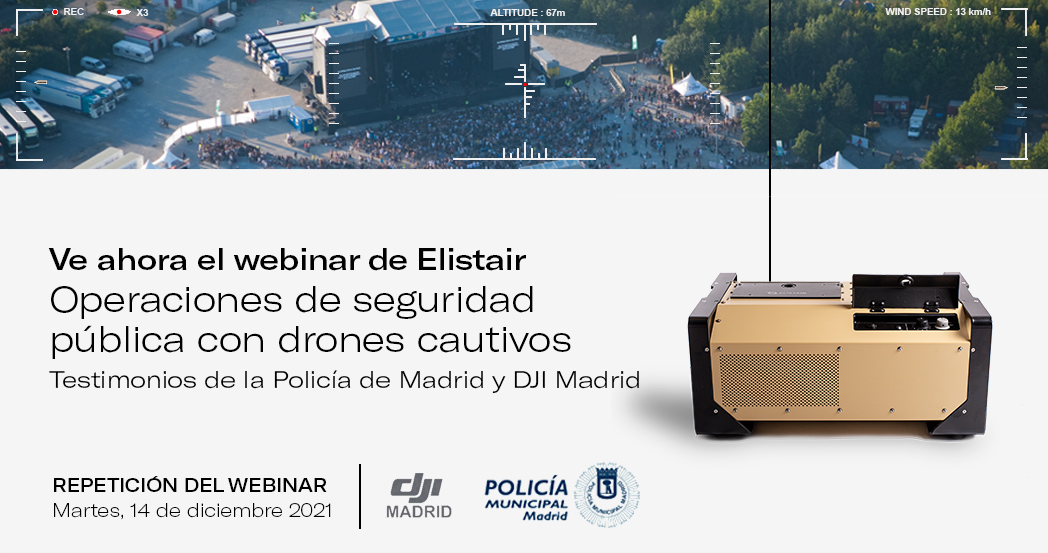 La Policía de Madrid, y el distribuidor DJI Madrid compartieron su experiencia en el uso de drones libres y cautivos para las operaciones diarias de seguridad pública. Descubra cómo la integración de sistemas de cableado en su flota de drones fue clave para aumentar la seguridad y reforzar sus procedimientos de presencia y despliegue.
Improving Industrial Site Safety using Tethered Drones – Feedback from Hellenic Petroleum HSE Manager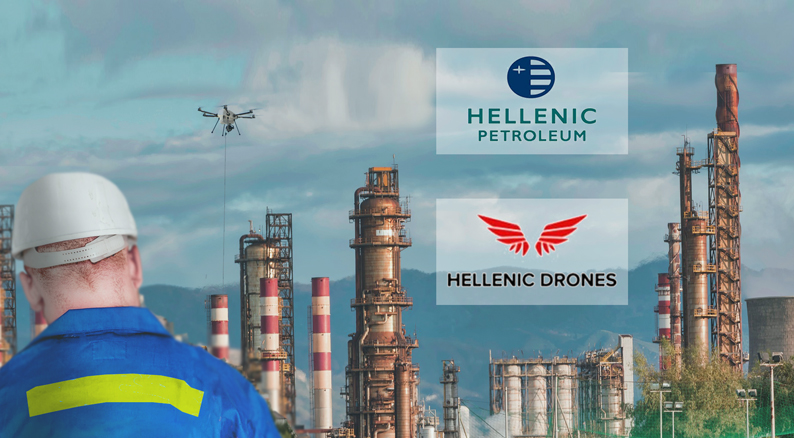 Two Industry Experts explain how they monitored the general maintenance operations in a petroleum refinery with a combination of free and tethered drones. Meet our guests, Lialios Asterios, Director of Health, Safety, Fire Safety and Environment of Aspropyrgos Industrial Complex at Hellenic Petroleum, and Evangelos Tzitzis, Operation Director of Hellenic Drones S.A.
Tethered Drones, A Critical Component of Tactical Telecommunications – Feedback from Omega Dev Group and Federal Resources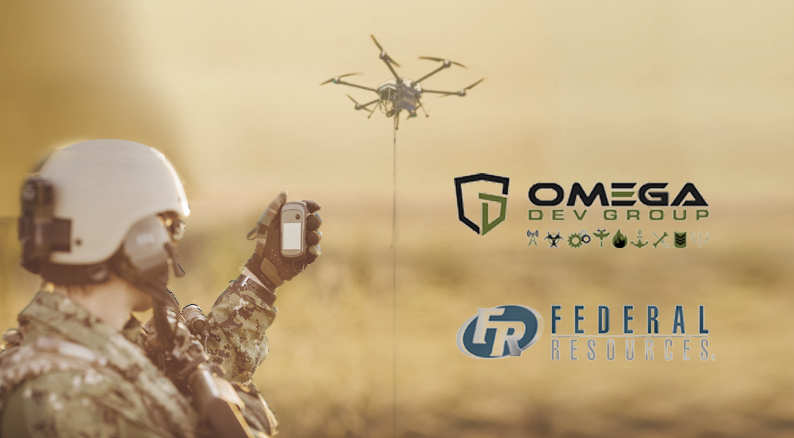 Two Experts in Tactical Telecommunication will share their opinion on the use of tethered drones as tactical aerial telecommunications relays. Meet our guests, Blair Hickey, Managing Director at Omega Dev Group, and Mark Stone, C4/ISR Business at Federal Resources and see how tethered drones are a force multiplier for frontline operations.
How Tethered Drones Contribute to Public Safety Operations – Feedback from Arlington Police Department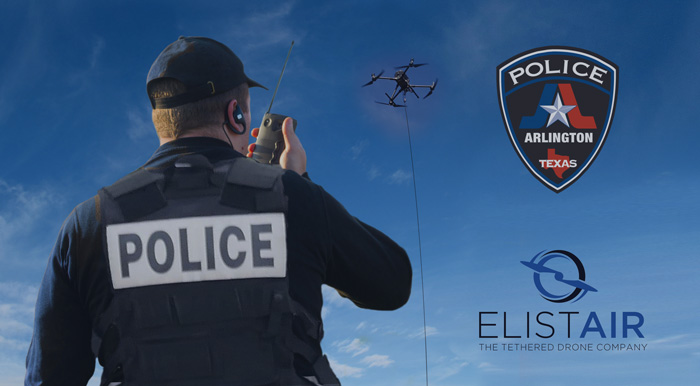 Police Department Lt. Neal Landfield, and Sergeant Robert Robertson, share their experience of using drones and tethered drones for daily public safety operations. Discover how our guests integrate tethered drone operations into their security systems and what the deployment procedures are.
Sales Enquiries – enquiries@elistair.com
Customer Support – support@elistair.com
PR and Marketing – media@elistair.com
Elistair, Europe
12 Chemin des Hirondelles
69570 Dardilly, France
+33 9 83 57 06 39
Elistair Inc, USA
331 Page Street, Suite 1,
Stoughton, MA. 02072
Customer service desk: +1 (910) 945 9230
Elistair, Africa
CCIFCI 18 BP189 Abidjan 18,
Boulevard de Marseille – Biétry
Ivory Coast
+225 07 69 43 31 78